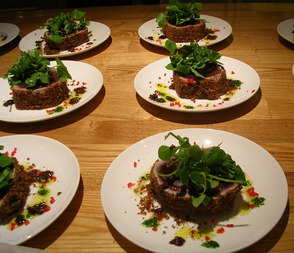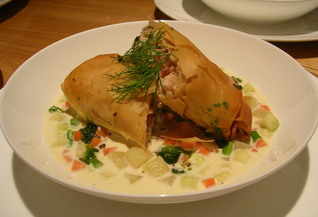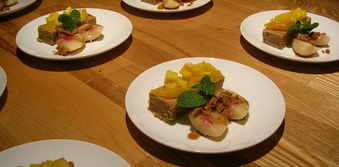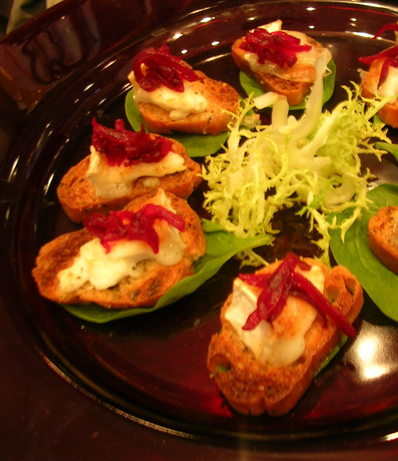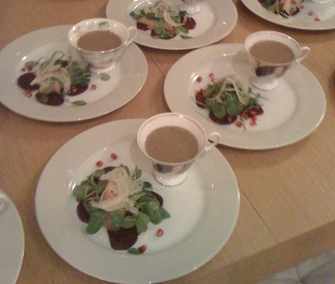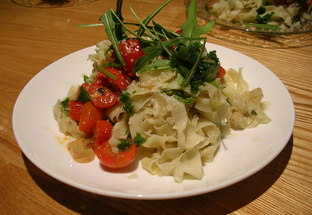 PRIVATE CATERING
Dining in and entertaining at home is the new trend as it should be. Don't get me wrong, I am a huge lover of dining out at restaurants - big and small, Michelin star to local
pub - but it is also nice to invite friends over and play host/hostess for the evening and have FUN doing it! Oh, I just love it!

Because we love it, we want to share our enthusiasm with you too.
Come, have a chat with us and we'll share what we know to make your party THE memorable one.

Our services cover:

- personalised menu planning for your event
- 'take-away-and-cook-yourself' range of meals
- personal/private chef for the event
- bespoke cakes for birthdays, anniversaries or just to say "You can have your cake and eat it!"




EVENING TAKEOUT MENU FOR MAY 2011
(Minimum order 4 portions)

MAINS £6.00 per portion
Smoked haddock, prawn & egg kedgeree
Shepherd's pie
Linguine with asparagus, parmesan & pea
Chicken fricasse with red wine, mushroom and spinach
Pizza with tuna, artichoke, chilli, lemon & olive
Fish of the day in a parcel with rice, vegetables & red curry sauce (+£2)
Braised beef with red wine, garlic, bay leave and vegetable, served with polenta (+£2)


MAINS (SALAD) £5.00 per portion

Potato, mushroom, spinach & pinenut salad
Red camargue rice, lentil, hazlenut, spring onion & mango salsa
Cauliflower, toast almond, herb, tomato, olive & chilli salad
Cheddar, leeks, walnut & proscuitto salad with ranch dressing
Chicken caesar salad
Traditional Greek salad


DESSERT £3.50 per portion

Apple Charlotte
Chocolate mousse
Tiramisu
Tart of the Day

CANAPES

meat (from £1.40 each)
black pudding, caramelised red onion on brioche crostini
filo parcel with potatoes, chorizo & aioli
spiced chicken, cous cous & red pepper burger with yoghurt dip
mini polenta 'open' sandwich with beef ragu & cheese
mini veal meatballs with parmesan crust (served with tomato basil sauce)
brushcetta with chicken liver-port pate & sage
pancetta & scallop parcel with pea puree
panfried Toulouse sausages with white bean puree
morroccan parcel of chicken, raisin, spices & potato
mini lamb kofta skewers with minted yoghurt sauce
pear wrapped in parma ham with honey & crushed walnuts
seared beef burger with creamed horseradish and tomato
chicken satay (on skewers) with peanut dip
porcini mushroom & pancetta baked risotto cakes
mini pork & sage escalopes with tomato sauce
braised beef with mash & roquette pesto
indian pork, potato & spiced croquette


fish (from £1.40 each)
baked new potatoes with caviar, creme fraiche & spring onion
teriyaki salmon with shredded vegetable & ginger mayonnaise
greek style bakes prawns with feta, garlic & chilli crust
smoked salmon, chives, cream cheese on blinis
Kitchen special crabcakes with lemon, thyme & sweet-chilli dip
grilled prawn skewers with lemon-mint-chilli dressing
smoked trout pate with cournichons & pink peppercorn on rye bread
seared tuna cubes with aromatic herbs & horseradish mayonnaise
traditional mini prawn cocktail
crudite with tonnato sauce
smoked oyster parcel with pancetta & balsamic glaze
thai prawn crackers with sweet chilli dip
black & white fried calamari with rouille
mini prawn & parsley frittata


vegetarian (from £1.30 each)
bruschetta e.g. buffalo mozzarella, lemon & basil; caponata & mint; mixed herbs, parmesan & tomato oil
mixed crudite with assorted dips: pesto, hoummous, aubergine or tapenade
pumpernickel squares with goat's cheese & slow roast cherry tomatoes
assorted vegetable tempura with soya-mirin dip
grilled mushroom polenta with pesto
chicory 'boat' with beetroot, feta & tapenade
roast pumpkin & carrot skewers with feta, orange & honey glaze
mini Caesar salad
bruschetta with parmesan & szechuan pepper
stuffed pepperdews with chives & cream cheese
toasted goat's cheese with cranberry & crushed hazelnut on crostini
mini pumpkin, cranberry & chestnut burger
figs with goat's cheese, pistachio nuts & truffled balsamic
selection of anti-pasti skewers (e.g. grilled courgettes, aubergines, olives etc)
wild mushrooms with truffle oil on duck egg brioche
risotto balls with mozzarella & parmesan
mini omelette with chard, walnut & brie
cheddar & spring onion spring roll
grilled artichokes with parmesan & olive stuffing
dessert (from £1.30 each)
brioche crostini with dark chocolate spread & Maldon sea salt flakes
toasted marshmallows skewers with almond crust
panettone and mincemeat sandwich (toasted)
figs, rum, lemon & amaretti gallette
Kitchen's chocolate cake with raspberry coulis
fruit skewers with modena balsamic dip
mini lavender & lemon custard tarts
seasonal fruit baked in marsala with ginger crust & mascarpone
mini croissant with cinnamon apples & crème fraiche
rice pudding with rosewater, cardamom & toasted pistachio
Kitchen chocolate truffles
classic lemon bars
We reserve the right to amend the menu according to the availability of certain ingredients.